Are you signing away ownership of your agency data to the technology vendors you use?
Learn what your agency can do to advocate for ownership of the client data housed in the technology systems you use. Our white paper explains the context behind the tug-of-war over data ownership between the many stakeholders in the insurance industry, and what you should ask technology partners to ensure they recognize the agency as the owner of their data.
Includes:
3 questions to ask before signing an agreement with a vendor

Legal precedent on data ownership

Sample contract language

A data autonomy checklist

Resource list of articles for further reading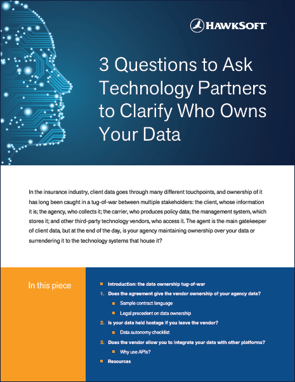 BONUS: Watch ACT & HawkSoft's Webinar, "Whose Data Is It Anyway?"

ACT hosts a panel with representatives from an agency (Elite Insurance), a technology provider (HawkSoft), and a carrier (Cincinnati Insurance) to discuss the roles of each stakeholder in protecting, owning, and providing access to client data.