Dick Fanazick Award > 2020 Winner
And the award goes to...Patricia Meeks!
Congratulations Patricia Meeks on being this year's winning recipient of the Dick Fanazick Award!

Thank you for your dedication to our future leaders.


Director of Bands, Shawnee Local Schools (Lima, Ohio)
The Dick Fanazick Award holds a special place in the hearts of HawkSoft's founders, the Hawkins' family. It serves as a platform where our customers can recognize that special teacher or mentor who has had a profound impact on their life and say "Thank you; you made a difference in my life." In the case of Sean Hawkins, a wise elementary grade teacher's actions from 25 years ago helped shaped the course of a young boy's life and that of a family business: HawkSoft. Read the full Dick Fanazick story here.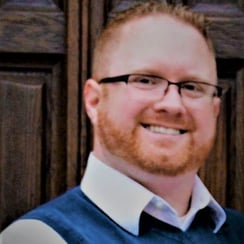 HawkSoft would like to thank Michael Ley of Ley Insurance Agency for nominating Patricia Meeks so we could honor and recognize her amazing efforts and impact she has had on Michael and the many students of Shawnee School District. Teachers who dedicate their lives to helping children develop their talents, self-worth, and confidence, along with influencing their future path, deserve to be recognized. Often times their efforts go unnoticed or they are unaware of how their words, actions, and daily contact with a student have had lasting impacts on shaping a child's life. This award is our small way of letting them know and saying, "Thank you."
"What I didn't know then was that her leadership push, that push for results, to achieve your goals, and hard work would become part of my life. Those traits that were instilled in me, those habits that were ingrained in each of us students and have been utilized in my everyday life. Leading people on the marching band field became leading people off the field, not only as a student but now as a manager and owner. It's easy to forget a student who is quiet, sits back and doesn't stand out. It's easy to lose a student because they are in and out of a hospital for a year. It's easy to move on to the next group after graduation. Pat never did that. She never gave up. She never gave up pushing me to be the best "me". She encouraged me to move past the obstacles in my way. Encouraged me to set and fly past those goals. There are so many times to this day she comes up in conversations I have with people."
− Michael Ley
Read Michael's full nomination here
The Nomination Process
Agents were asked to submit their nominations through a form on the Dick Fanazick landing page. A committee of 11 reviewed the nominations. The committee consisted of :
Seven HawkSoft employees (one representative from each department that were not a member of the Hawkins family)
Two non-HawkSoft employees
Two HawkSoft customers who had not submitted a nomination
The nominating agent was not known to the committee. They could only view who was nominated and the supporting story. Each committee member voted autonomously by submitting their vote via a form where they ranked their top 3 candidates and provided reasons of why those individuals upheld the value and purpose behind the Dick Fanazick Award.
The committee was very grateful for the opportunity and many said that it was difficult to choose a winner because of so many strong entries. As one committee member voiced, "Honestly, everyone who has earned the respect and trust of agents willing to complete these nominations are winners and inspiration for all of us!"
Read comments from the committee about the winning nomination