HawkSoft & Nationwide Partnership > HawkSoft Webinars
Does your Nationwide agency have questions about transitioning to an independent agency?
HawkSoft has answers. Our five-part webinar series covers the most important things for your agency to think about as you go independent, from choosing a management system to e-Signature and Rater integrations to personal and commercial workflows. Click on the links below to watch the recorded webinars!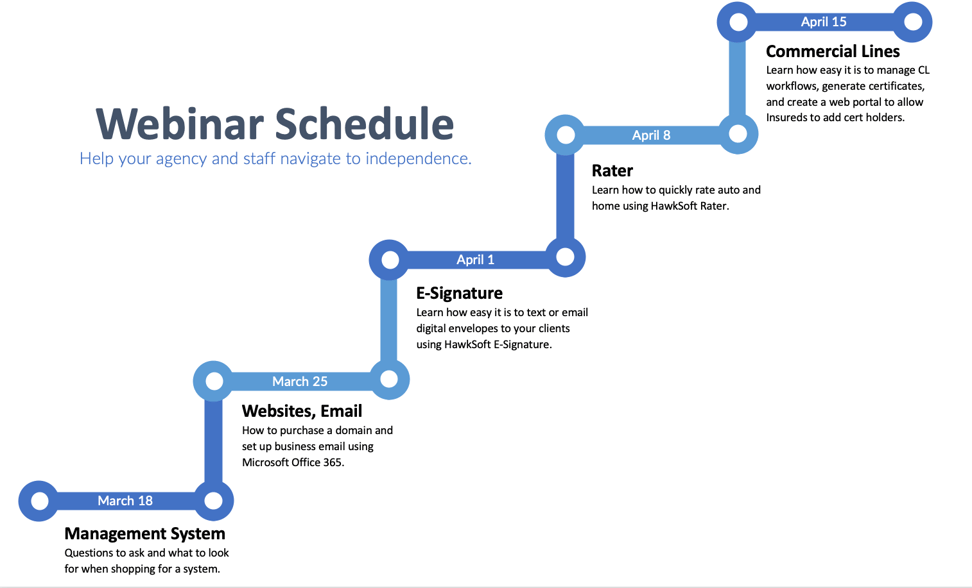 Good vs. great management systems: a tour of HawkSoft
Most management systems have an 80% overlap of features and capabilities. What distinguishes a good agency management system from a great one? Learn what the best agency management systems can do for you and take a tour of the HawkSoft system to see common workflows in action.
See recorded webinar & materials
Setting up a website domain & business email in under 15 minutes
As your agency goes independent, you will need to purchase a website domain and business-class email service. In this webinar, we will go through the steps to find, purchase, and set up these items with a real domain. We will use Microsoft Office 365 as our email provider and show you how easy it is to set up email service that works with your new website domain.
See recorded webinar & materials
E-Signature integration with PL & CL workflows
Give your clients flexibility and gift your staff efficiency with an e-Signature service that integrates with the management system. Send, receive, and document all digital signatures with HawkSoft E-Signature. Send signature requests to your clients via text message or email. You will also learn how to build reusable documents for self-service forms like a release of liability waiver.
See recorded webinar & materials
Rater integration with your website & PL workflows
Learn how to quote Auto/Home using HawkSoft Rater (powered by ITC TurboRater). We will show you the advantages of using a single-entry screen inside one system to manage the entire rating process. This eliminates double data entry and juggling workflows across multiple screens and vendors.

See recorded webinar & materials
Commercial workflows & certificates
Learn why agencies rave about HawkSoft's commercial workflows and our proprietary Certfiicate Wizard to generate COIs. We will do a walkthrough of how to create a Certficate, publish it online, and use HawkSoft's Self-service Certificate portal to allow your insureds to add cert holders and email the COI to them through a secure website.
See recorded webinar & materials
Want to learn more about the HawkSoft & Nationwide Partnership?
See our Nationwide page for more resources for Nationwide agencies, or schedule a one-on-one demo of HawkSoft.